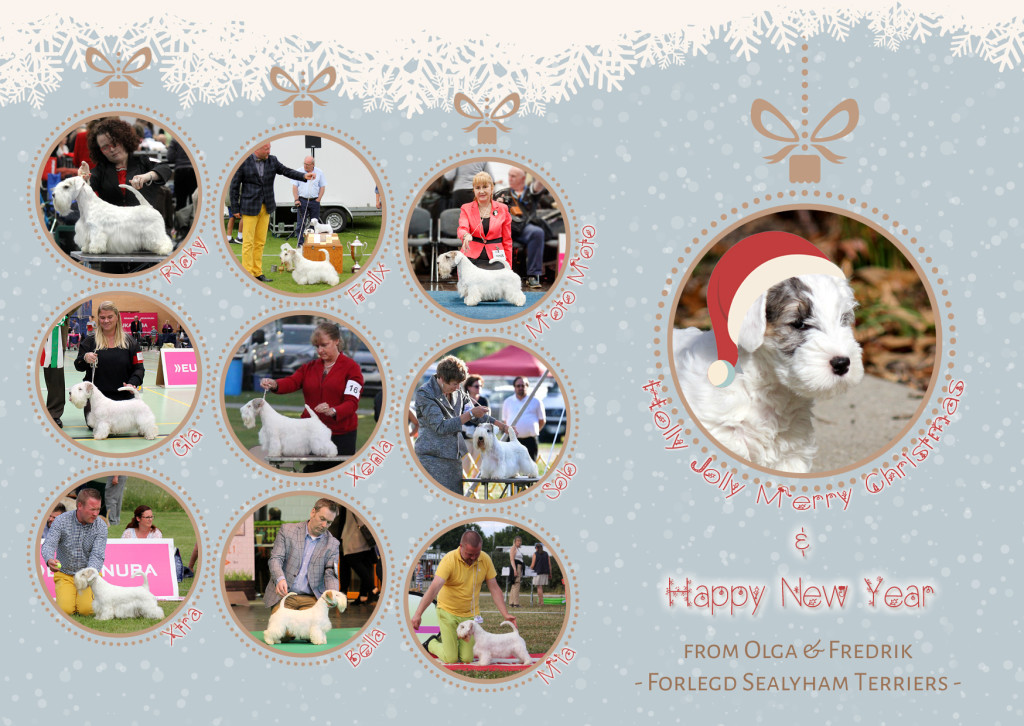 December 17 – Stockholm, Sweden
judge: Steven Seymour
Absolut Forlegd iz Alenushkinoy Skazki – Swedish Winner '17, CACIB, BOB
Thunder Rd's Bohemian Rhapsody – Swedish Junior Winner '17, Swedish Winner '17, CAC, BOS
---
November 26 – Kielce, Poland
judge: Kenneth Crockett
Forlegd Zazzy Severus – CWC, CACIB, BOB, BOG 2
Forlegd Spiffy Padmé Amidala – CWC, CACIB, BOS
---
November 25 – Kielce, Poland
breed judge: Susan Kealy, group judge: Laura Cox
Forlegd Zazzy Severus – CWC, CACIB, BOB, BEST OF GROUP 1
Forlegd Spiffy Padmé Amidala – CWC, CACIB, BOS
---
November 24 – Kielce, Poland
judge: Helge Kvivesen
Forlegd Zazzy Severus – CWC, CACIB, BOB
Forlegd Spiffy Padmé Amidala – 2nd in Champion Class
---
November 19 – Lillestrom, Norway
judge (sealyhams): Geoff Corish, UK, (airedales): Patricia Trotter, (Puppy BOG): Cindy Pettersson
Forlegd Zazzy Severus – Norwegian Winner '17, BOB
Thunder Rd's Bohemian Rhapsody – Norwegian Junior Winner '17, Norwegian Winner '17, BOS
Joval's Angel Of The Northern Lights – Puppy BOB, Puppy BEST OF GROUP 1
---
November 11 – Leipzig, Germany (World Dog Show)
judge: Hans van den Berg, The Netherlands
Forlegd Zazzy Severus – 2nd in Champion Class, res.CAC, res.CACIB (v-ce World Winner)
Forlegd Yuppie Moto Moto – 3rd in Champion Class
Forlegd Yadda Yadda Gia – 1st in Champion Class, CAC, res.CACIB (v-ce World Winner)
Forlegd – Best Breeders Group
---
October 22 – Poznan, Poland
group judge: Bojan Matakovic, BIS judge: Frank Kane
Forlegd Yuppie Moto Moto – Winner of Poland, BOB, Group 1, BIS 4
---
October 21 – Poznan, Poland
Forlegd Yuppie Moto Moto – BOB
---
October 15 – West Friendship, USA
judge: Elizabeth Hindley
Forlegd Steezy Han Solo – BOB, Group 4
---
October 14 – West Friendship, USA
judge: John Constantine-Amodei
Forlegd Steezy Han Solo – BOB
---
October 13 – West Friendship, USA
judge: Linda L. Reece
Forlegd Steezy Han Solo – BOB
---
October 12 – West Friendship, USA
judge: Alice M. Watkins
Forlegd Steezy Han Solo – BOB
---
October 07 – Vårgårda, Sweden
breed judge: Mats Lindborg, BIS judge: Heather Cox
Forlegd Zazzy Severus – BOB, BEST IN SHOW 2
Thunder Rd's Bohemian Rhapsody – CAC, Best Junior, BOS
---
October 08 – Montgomery Show, USA
Forlegd Steezy Han Solo – Select
---
October 07 – Devon Show, USA
judge: Gay Dunlap
Forlegd Steezy Han Solo – BOB
---
September 30 – Åland, Finland
judge: Morgan Granander
Forlegd Zazzy Severus – CAC (and Finnish Champion), CACIB, BOB
Thunder Rd's Bohemian Rhapsody – CAC, CACIB, BOS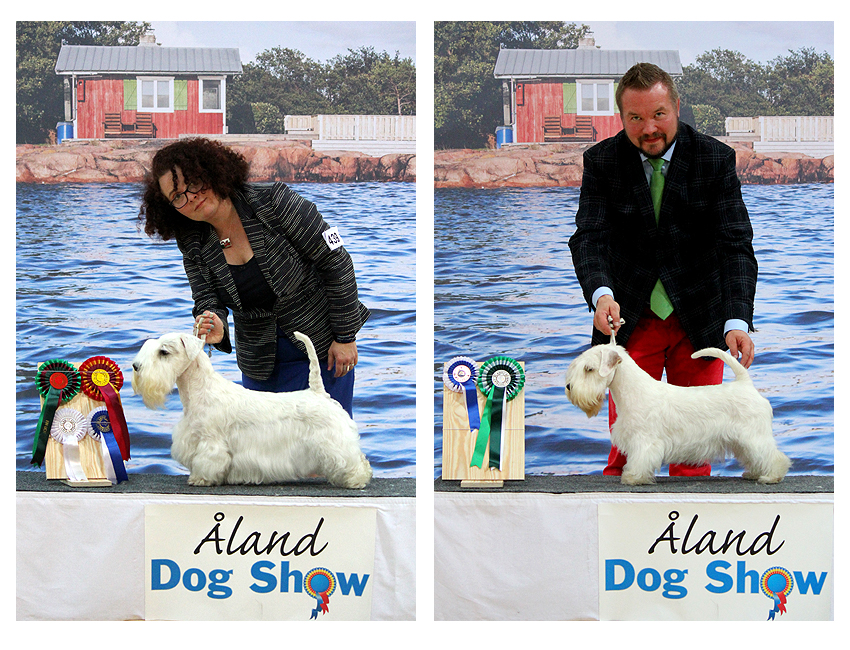 ---
September 24 – Ballerup, Denmark
judge: Mette Sørum
Forlegd Zazzy Severus – Copenhagen Winner, BOB, Group 3
Thunder Rd's Bohemian Rhapsody – Copenhagen Junior Winner, 2nd Best Female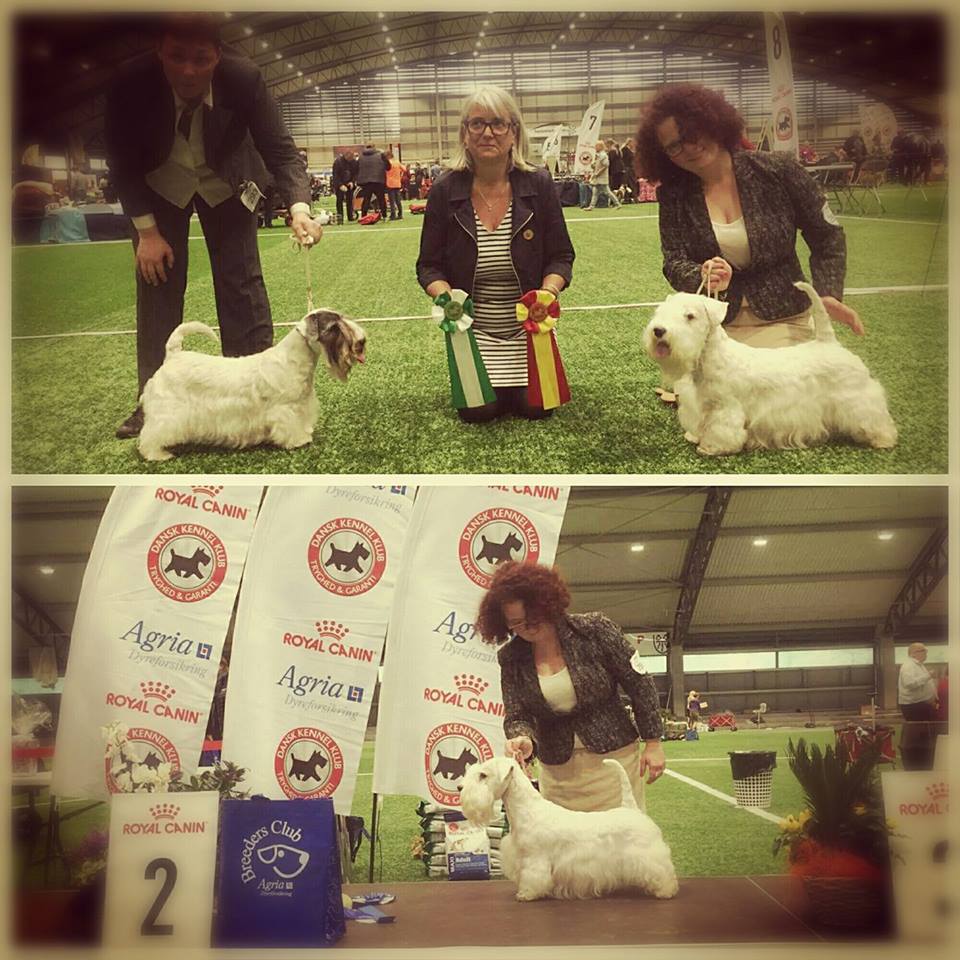 ---
August 7
Newest Forlegd puppies were born 🙂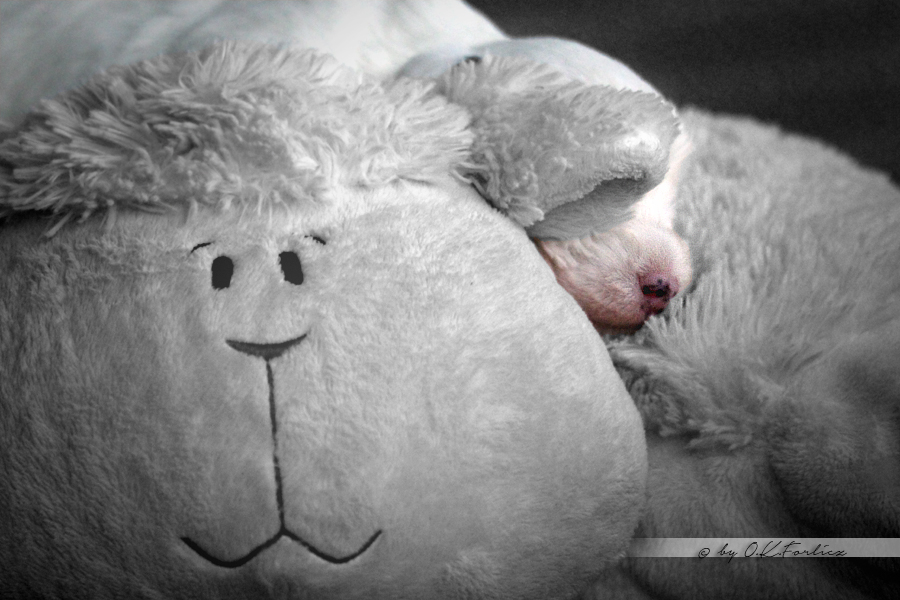 ---
July 29 – Bedzin, Poland
judge: Łukasz Pawłowski
Forlegd Zazzy Severus – BOB, Group 3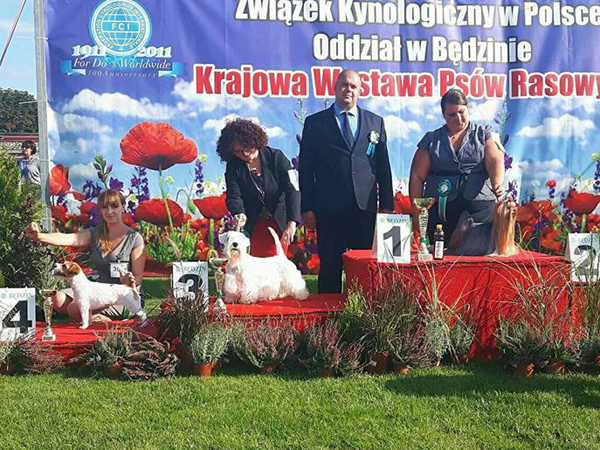 ---
July 23 – Köping, Sweden
judge: Ronnie Irving
Forlegd Zazzy Severus – BOB
Thunder Rd's Bohemian Rhapsody – Puppy BOB
---
July 22 – Eskilstuna, Sweden (Nordic Terrier Show)
judge: Clay Coady (breed), Ronnie Irving (BIS Puppy)
Forlegd Zazzy Severus – BOB
Thunder Rd's Bohemian Rhapsody – Puppy BOB, Puppy BEST IN SHOW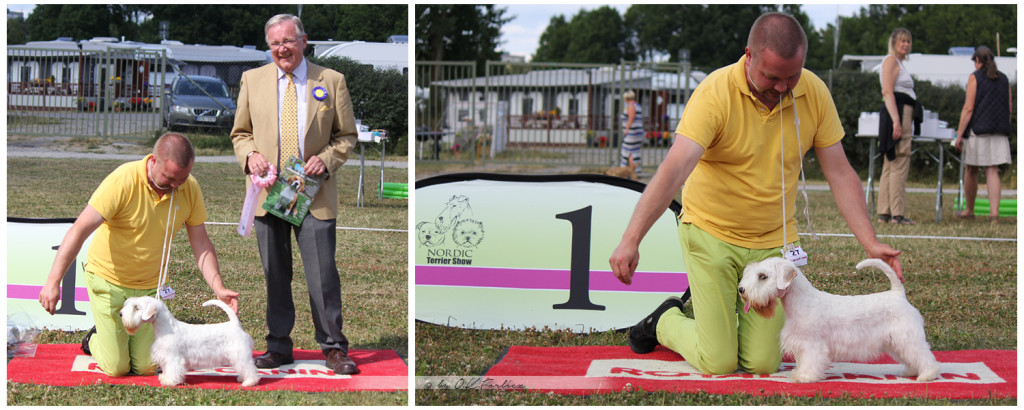 ---
July 9 – National Capital KC, USA
judge: Jerry Lee Howse
Forlegd Top Secret Xenia Onatopp – OH BOB, OH Group 2
---
July 7 – Northeastern MD KC, USA
judge: Terry Berrios (OH Group), Roger Hartinger (Group)
Forlegd Top Secret Xenia Onatopp – OH BOB, OH Group 3
---
July 3 – Tidewater KC of VA, USA
judge: Robert Smith
Forlegd Top Secret Xenia Onatopp – OH BOB, OH Group 2
---
July 2 – Tidewater KC of VA, USA
judge: Edd Bivin (OH Group), Linda Reece (Group)
Forlegd Top Secret Xenia Onatopp – OH BOB, OH Group 1, OH BEST IN SHOW, Group 3
---
July 2 – Borås, Sweden (Scandinavian Sealyhamterrier Society Specialty Show)
judge: Michael Laub
– Absolut Forlegd iz Alenushkinoy Skazki – BEST IN SHOW!!! Winner of BEST COAT prize! 
– Thudner Rd's Bohemian Rhapsody – BEST IN SHOW PUPPY! Winner of BEST HEAD prize!
– Forlegd Zazzy Severus – 2nd Best Male
– Forlegd Yack It Up Gloria – shown for fun in sport class 🙂
– Ricky's young son bred and owned by Anna Louise Nygaard-Carøe – Sojus Reason to Believe – BEST IN SHOW JUNIOR and 3rd Best Male!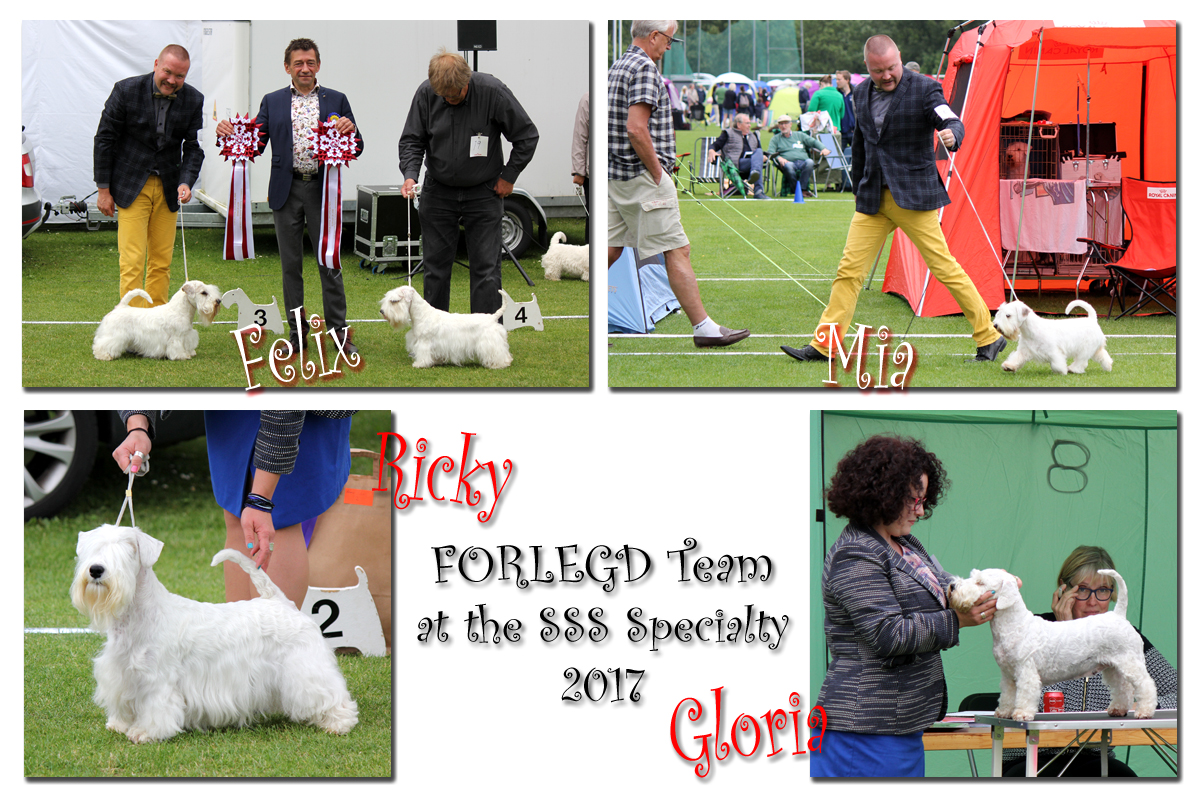 ---
June 30 – Southern MD KC, USA
judge: Dana Cline
Forlegd Top Secret Xenia Onatopp – OH BOB, OH Group 1
---
May 13 – Chambersburg Area KC, USA
judge: John Constantine
Forlegd Top Secret Xenia Onatopp – BOB, Group 3
---
May 12 – Chambersburg Area KC, USA
judge: Jerry Howse (OH Group), Alice Watkins (Group)
Forlegd Top Secret Xenia Onatopp – OH BOB, OH Group 1, Group 1
---
May 8 – Trenton KC, USA
judge: Connie Clark
Forlegd Top Secret Xenia Onatopp – OH BOB, OH Group 1
---
May 7 – Trenton KC, USA
judge: Lloyd Amodei
Forlegd Top Secret Xenia Onatopp – OH BOB, OH Group 2
---
May 6 – Bucks County KC, USA
judge: Diane Ondo
Forlegd Top Secret Xenia Onatopp – OH BOB, OH Group 1
---
May 5 – Garden State All Terrier, USA
judge: Kathi Brown
Forlegd Top Secret Xenia Onatopp – OH BOB, OH Group 1/BIS
---
April 30 – Penn Treaty KC, USA
judge: Lloyd Amodei
Forlegd Top Secret Xenia Onatopp – OH BOB, OH Group 1
---
April 29 – Wilmington KC, USA
judge: Colin Greaney (OH Group), Rita Holloway (OH BIS), Robert Shreve (Group)
Forlegd Top Secret Xenia Onatopp – OH BOB, OH Group 1, OH BEST IN SHOW, Group 2
---
April 28 – Wilmington KC, USA
judge: Doug Holloway
Forlegd Top Secret Xenia Onatopp – OH BOB, OH Group 1, OH BEST IN SHOW
---
April 23 – Baltimore Cty. KC, USA
judge: James Moses
Forlegd Top Secret Xenia Onatopp – OH BOB, OH Group 2
---
April 9 – Shawnee KC, USA
judge: John Constantine
Forlegd Top Secret Xenia Onatopp – BOB, Group 2
---
April 8 – Shawnee KC, USA
judge: Linda Reece (OH Group), Lorraine Bisso (Group)
Forlegd Top Secret Xenia Onatopp – OH BOB, OH Group 1, Group 4
---
March 26 – Bronx KC, USA
judge: Nena Dee
Forlegd Top Secret Xenia Onatopp – OH BOB, OH Group 3
---
March 25 – New Brunswick KC, USA
judge: Robert Myall
Forlegd Top Secret Xenia Onatopp – OH BOB, OH Group 1
---
March 24 – New Brunswick KC, USA
judge: Diane Foote
Forlegd Top Secret Xenia Onatopp – OH BOB, OH Group 2
---
March 17 – York KC, USA
judge: Christine Anderson
Forlegd Top Secret Xenia Onatopp – OH BOB, OH Group 3
---
March 12 – Monticello NY KC, USA
judge: Richard Powell (Group)
Forlegd Top Secret Xenia Onatopp – OH BOB, OH Group 1, Group 2
---
March 11 – Monticello NY KC, USA
Forlegd Top Secret Xenia Onatopp – OH BOB, OH Group 1
---
March 9 – Crufts
judge: Julie Moyes
Forlegd Bubbly Belladonna Baggins – 1 in junior class, res.CC
Forlegd Brilliant Bilbo Baggins – 1 in junior class
---
March 4 – Sollentuna, Sweden
judge: Pia Lundberg (breed), Svante Frisk (BIS)
Forlegd Zazzy Severus – BOB, BEST IN SHOW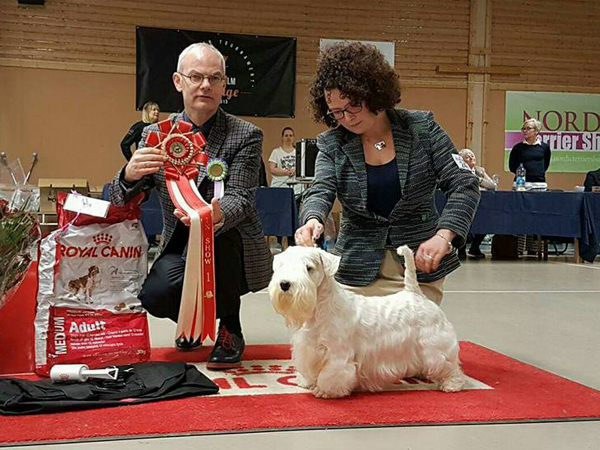 ---
January 20 – Sand and Sea KC, USA
judge: Norbert Dee (OH Group), Don Evans (Group)
Forlegd Top Secret Xenia Onatopp – OH BOB, OH Group 2, Group 3
---
January 19 – Sand and Sea KC, USA
judge: Nena Dee
Forlegd Top Secret Xenia Onatopp – OH BOB, OH Group 2
---
January 18 – Union County KC, USA
judge: Thomas Feneis (OH Group), Robert Shreve (Group)
Forlegd Top Secret Xenia Onatopp – OH BOB, OH Group 2, Group 2
---
January 12 – Northern Neck KC of VA, USA
judge: Candy Way
Forlegd Top Secret Xenia Onatopp – BOB, Group 4